About Us
POOL BUILDER SAN DIEGO, ESCONDIDO & CARLSBAD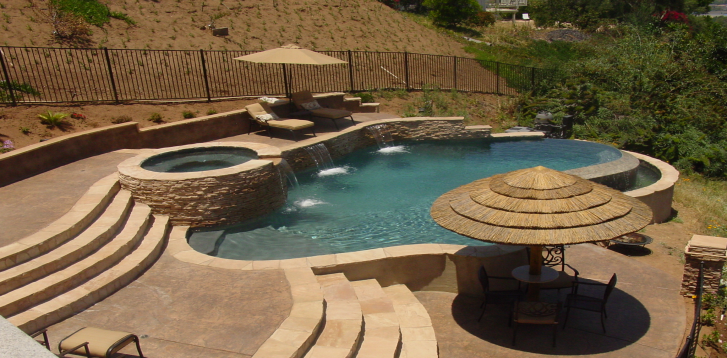 Custom Pool Design & Construction
As one of San Diego County's largest and oldest custom pool contractors, Padre Pools stands out as an industry leader. It's been locally owned and operated since 1971 and is dedicated to designing and building the highest-quality pools around. Padre Pools recognizes efficient management and exacting job supervision lead to a successful pool build, and that's why when you build with Padre Pools, you're building with the best.
As a full-service custom pool builder, Padre Pools offers a variety of services that provide convenience to past, present and future customers. They include, but are not limited to: design and construction of new custom pools, spas and water features; existing pool and spa renovation; service maintenance programs; and pool and spa repair. We are also a custom rock work specialist. In addition, Padre Pools is available to create a master plan that considers all of the unique elements of the site and your aesthetic desires.
We stand by our reputation as the premier pool builder in San Diego County because we have the history to prove it. For 45 years we have had a long-standing presence in the area as more than just the local pool company. We're in the business of building relationships and memories for families and friends who enjoy the camaraderie of experiencing the pool together. The Padre Pools team remains dedicated to providing everyone with a luxurious backyard they can enjoy for years to come.
Take a few minutes to learn more about us and why building with Padre Pools can make a difference to your backyard. Browse through our project galleries to get a feel for what we can do and to get some inspiration for your own custom pool and spa. Read why our clients trust Padre Pools to design and build the backyard of their dreams. As a Better Business Bureau member for more than 25 years, we have maintained an A+ rating, and we're proud to adhere to the high standards of excellence and ethics as such. Contact us today so you can get the Padre Pools experience yourself and get one step closer to your outdoor paradise.